If we closely analyze the property market of Gurgaon then we will understand how much it is doubling its value in the city. Another reason is the Circle rates Gurgaon which is impacting hugely on the property value.
Over the few years, Gurugram is becoming the hub of many investors as well as employees who give their first preferences in this millennium city for residential preferences. Increased circle rate increase property value hence, Gurgaon city is becoming one of the preferred destinations for relocation as well as investment.
What is Circle Rate?
The circle rate is the minimum price at which a property has to be registered. Generally, circle rates are affixed by government authorities for land or property, with a minimum price usually paid by the home buyer while registering the property. Circle rate is commonly charged by the government authorities or property such as land and apartments. Circle rate is quite essential while the transaction of the real estate property.
Why Circle rate is important?
If you are planning to buy a property then first of all you will inquire about the circle rate of the property and then you can go for the property. Additionally, there are very important rates of housing developments and in case you are going to purchase a property, the circle rate will help you to find out the exact property value in that area.
It is quite important to understand the circle rate if you are planning to buy property in a particular location and when it comes to buying property in Gurgaon city then it is quite essential to understand the circle rate.
How do I find the circle rates in my area?
If you are finding a buy home in Gurgaon according to circle rate then you need to consider. Listed below are the current updated circle rates of Gurgaon, which you must know before giving a final decision on any property.
Can you sell a property below circle rate?
According to Section 50C of the income TAX Act, if the property is sold below the circle rate then it will be considered that the rate will remain the same as prior but the capital gains tax charge would be levied assuming that the property which has been sold at the circle rate.
How is property value calculated by circle rate?
You can calculate the circle rate to know the actual value of the property. Here is the formula given below: –
Property Value = Built-up area (In sq.meters) x Circle rate for the locality (in sq.meters)
Current Circle Rate in Gurgaon 2022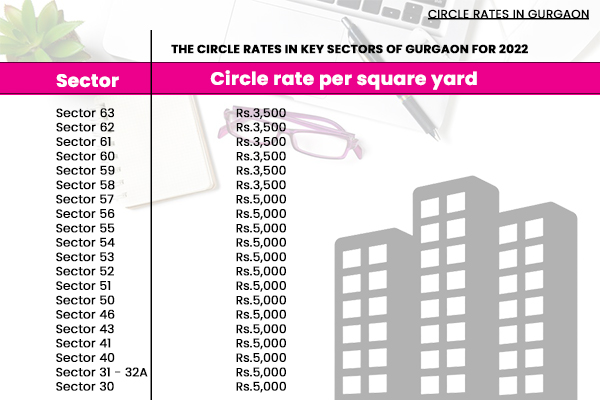 The circle rates in key sectors of Gurgaon for 2022 are listed below:
Current Budget impact circle rate
Our budget impacts the Circle Rates in Gurgaon for different projects located off the Golf Course Extension Road, Sohna Road & Dwarka Expressway. The value of circle rates increased from 10% to 30%, and collector rates hiked up to 66 % in Gurgaon tehsil, 5-10% in Wazirabad, and 38% in Manesar tehsil respectively. For Municipal areas, circle rates are 8%-10%
Circle rates in municipal areas have been revised by an average rate of 8%-10%. Collector rates in HSVP sectors have hiked by 5%-10% in Gurugram Tehsil, in Badsahpur, 10%-12%, and in Wazirabad 10%-15%.
Taking about the Shushant Lok-1 and DLF Phase -1 the Circle rates increased from Rs. 77,000 to 85,000 per sq. yard. For Collector rates for DLF Phase, 2,4 & South City hiked from Rs 72,000 to Rs. 85,000 per sq. yard. And in DLF Phase 3, Circle rates have been increased from Rs. 66000 per sq yard. In DLF Phase 5, Collector rates are Rs. 90,000 per sq yard. It also increased in sectors 58 to 64 from 3,000 per sq yard to Rs. 36,000 per sq. yard.Circle rate in sectors 104,105,106,109,110,110A, 112, 113, 114,115 has been hiked from Rs. 25,500 to Rs 30,000.
Collector rate has also been hiked for residential plots in sectors 58 to 64 from 3,000 per sq yard to Rs. 36,000 per sq.yard. Circle rate in sectors 104,105,106,109,110,110A, 112, 113, 114,115 has been increased from Rs. 25,500 to Rs 30,000.
As per the recent data, collector rates have been hiked by the Gurgaon Administration for the year 2021-22. Similarly, many other states also brought down their circle rate as well as stamp duty rates serve them the benefits.
This decision would hike the property value in certain areas of Gurgaon up to 80% appreciation.
You May Also Like : 1: Property to invest in India