Investing in the real estate sector means endless benefits and that is why in India most investors keep themselves devoted to it. To invest in this sector you don't need to be an experience holder, even a newbie can invest and grab huge benefits. Only you have to note some vital points because a home purchase involves plenty of money, and several risks and sometimes there is less guarantee that you'll get the desired return over investment.
After the outbreak of the COVID-19 pandemic, only the real estate sector emerged as the safest investment option because of the depreciating rates of the Indian rupee on low-interest home loans, which brought a change that encouraged home buyers to have a residence and to take pride in being ownership of a property.
So if you are wondering to be in ownership of property and looking for an investment then here are some points that will make your investment journey easy and risk-free.
Things To Remember Before Investing In Real Estate
Location and Survey the Property Thoroughly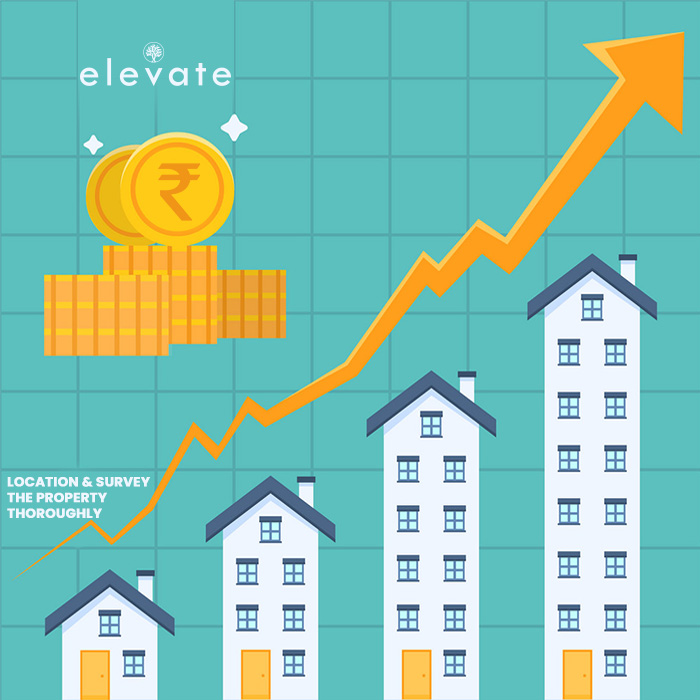 Location plays a crucial role in property buying especially when you are seeking a residential property because there are several factors associated with it such as roads, connectivity, transportation, and distance to neighboring cities. Only a careful investigation of the site can brief you about the potential and liabilities present in that location, other than this it is essential for the buyers that they should gather the blueprint of the property which helps them to understand the actual size of the house.
Furthermore, it is advised that home buyers should take the review of the property through RERA and also take legal assistance to avoid unknown problems in the future so that it'll create transparency between the buyers and the sellers. And the most important thing is to do the site visit more than once before finalizing the property, which will clear all your queries regarding the property and the locality.
Look at Historical Returns of existing Investors
If possible then try to gather information, review, or any historical data about the property because it is essential to consider the existing information before buying the property. It does not only give you a clue of useful information but also will tell you the demand for the property, rental yields, and pricing.
Title
Tile is a significant thing while purchasing a property and it is advisable to investigate the title of the property through a reputed lawyer or legal firm. Generally, investors face problems with titles in secondary sale cases, it is extremely tedious and expensive to resolve. So before investing in any property check the title first and then go for it.
Market Dynamics
Before investing in any property it is essential to understand its value of it, especially for residential properties you must check the numerous home loan interests, whether it is provided by the developers, and check the Government regulations such as reduced stamp duty for women's home buyers. Knowing all these essential things help to get the desired property.
REITs
Real Estate Investment Trusts (REITs) are 80% underlying with different assets that generate income and it is believed that it is the only source from real estate sectors that major parts go to government treasure. So to strengthen it more it needs to be more operational.
Things To Remember Before Investing In Real Estate ( About Conscient Elevate)
Per the Knight Frank-FICCI-NAREDCO Real Estate Sentiment Index Q4 2020 (October – December 2020) Survey, the response of real estate scores at a year-high in Q4 2020, and the circumstances of the year 2021 look greatly optimistic. In 2021 we hope to see great potential in the residential and commercial real estate business and Conscient Hines elevate is the best for investment.
Real Estate experts suggest that to continue the flow of investors and developers, the government needs to take essential steps so that all can see a positive result in the real estate sector. Also, it will boost the demand to an unprecedented level.